Where Would You Be
If You Were Not Afraid ?
When life says "Yes!", Fear says "No!"
When life says "You can", Fear says, "You can't!"
When life says, "Go ahead!", Fear says, "Turn around!"
When life says, "Swim!", Fear says, "SHARKS!"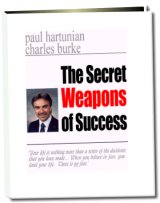 Who are YOU listening to?
Life?
Or Fear?




Dear Friend,
Have you ever looked back wistfully at your life and thought, "I wish I had done this". "I wish I hadn't worried so much about what people were saying." "If only I had done what I really wanted." "If only I had TRIED!"
Been there? Well, so have I. And believe it or not, so have the world's most successful people.
The only difference is that they decided to do something about it. They decided to move on. And they did!
That's exactly what separates the successful people from the unsuccessful ones.
Successful people don't fret and fume over their circumstances or their past.
For those of us watching from a safe distance, it seems as if successful people always know 'right' from 'wrong'. It's as if they're blessed with a special "gift" or the power to better control their lives.
Somehow, the media latches on to this popular perception and every successful person is cast in the same mold. They all seem to be blessed the same qualities- determination, grit, perfectionism, talent, luck, drive….
It's become so prevalent that most of us would never dare to question this 'stereotype'.
Right from the day we're born, we are constantly brainwashed to follow in their footsteps in order to succeed. And we do, without ever realizing it.
At that point we stop being ourselves, and start trying to be a stereotype. Someone we're not.
Someone we can never be.
We shut our eyes to life's tremendous possibilities. We stop doing what we really want to do. We stop listening to our hearts. We start fearing reality and retreat into the 'safety' of our fears and misconceptions.
We start living a limited, unsatisfying and UNSUCCESSFUL life.
Don't you think it's about time you stopped conforming to the "success stereotype" and mastered real-life secrets of successful people?
That's exactly what I'm going to teach you in the next few minutes- with my Simple & Practical course called
The Secret Weapons of Success
The proven secrets in this gripping 31-page course have transformed the lives of thousands of people by teaching them to
Know the difference between rational and irrational fear
Discover the secrets of true love and fame
Learn to "Let go" and make room for life's limitless possibilities
Know what you can change and accept what you cannot
Learn to break down life's problems into manageable portions.
Overcome "impossible" challenges by setting identifiable goals and priorities
Think clearly and objectively instead of "dramatizing" your circumstances
Stop chasing the myth of a "perfect life" and make room for life's little surprises.
Break out of the 'success stereotype' and make way for a more positive, flexible and energetic you.
Stop wallowing in self-pity and take responsibility for your decisions.
Attract and inspire people with the force of your vision and ambition.
Avoid common psychological traps and find creative solutions to life's problems.
Turn challenges into new opportunities for success
Expect change and overcome your fear of risk or uncertainty.
…And a whole lot more, explained in my NO-NONSENSE, conversational style!!


No "Consult-ese", No jargon, No sermons, No speeches
Just an honest, no-holds-barred guide to finding and fulfilling your most cherished dreams!

The course is chock-full of real life ideas and examples that have worked for me, and for hundreds of people who take the time to call, write or stop by - only to thank me for making a lasting difference to their lives.
I know what you're thinking now. "I'm sure I could use your course, but…"
..But what does it cost?
Since you've already paid the price of living in fear, I've priced my course to be really light on your pocket.
At $47, this course is Better than a steal!
I know I could price it much higher, but I really want it to reach the maximum number of people.
Nothing beats the high of getting another friendly thank-you note from someone whose life was deeply touched by reading the course and using it to achieve their heart's desire.
Oh wait, I can already feel another 'But
' coming…
So if you order RIGHT NOW I'm going to include these Four Remarkable Bonuses (Valued at $188) ABSOLUTELY FREE! They come from some of my closest and most respected friends who are all very successful and all willing to share the secrets of their success with you.
BONUS #1: "Unspoken Marketing – Joe Vitale's Collection of Controversial Marketing Truism". In this ebook Joe shares with you 45 very controversial truths that very few people know…and even fewer put to work.
You'll be able to download this ebook right away – (retail value $47)
BONUS #2: Bob Serling's "4 Foolproof Ways To Tell If Your New Product Will Be Successful – Before You Invest Serious Time and Money In It". Everybody wants to come up with a new product that'll make them a fortune. But too many people lose major amounts of money on a product that was doomed from the beginning. Let Bob put you on the path to success and steer you away from the pitfalls of bankruptcy. – (retail value $15)
You'll be able to download this ebook right away.
BONUS #3: The One Marketing Secret That Could Make You Rich.Just knowing this one secret could put your whole life and fortune on a new, exciting path.
Experts (including me) share with you their best advice on how to make this year your most profitable, successful year ever.
That's exactly what you'll find in this ebook.
Get started now to experience a profound difference within days of reading this course!
You'll be able to download this ebook right away. - (retail value - $30)
BONUS #4: In addition to all of the incredible bonuses I've listed above, you'll also get a gift certificate for $47 good toward the purchase of my deluxe publicity kit. Already have my publicity kit? No problem. You can use this gift certificate toward your newsletter renewal. Either way, you're a big winner, because when you use the gift certificate, this package becomes FREE! (retail value - $47)
So there you have it. My "Secret Weapons for Success" program, a bonus package worth $188, including a gift certificate worth $47 – which is the entire price for this package. You can't possibly beat this deal.
Watch your long-lost dreams, hopes and ambitions revive themselves as you uncover The Secret Weapons of Success.
Just click here to rediscover the positive, motivated and successful person hidden inside you! Order now!
Sincerely,
Paul Hartunian
Paul Hartunian
Hottest-selling author of "How to Get $1 Million Worth of Publicity…FREE!", "How To Find the Love of Your Life in 90 Days or Less" and probably best known as 'the first guy to really sell the Brooklyn Bridge'
PS: It's time to take fear by its horns and take a positive step towards living the life you've always wanted. It's never too late to fulfill your dreams, provided you ACT NOW and start putting this course into practice. You owe it to yourself and to all the people who truly believe in you!